Helps to build Future-Proof Brands
based on Zeitgeist trends & Consumer insights
"Our passion is helping brands bloom, along with the people behind those brands."
"We use our Zeitgeist trendvision & consumer foresights, together with our broad marketing experience, to build Future-Proof Brands."
"Too often, I see brands and organisations reacting too slowly to the changing Zeitgeist. Even though these days, standing still is simply not an option."
"When people do dive into the consumer trends, they are often confused by the number of trends out there. That's where we come in. Based on your brand and the Zeitgeist, we highlight only those trends relevant to your specific situation."
"Our business isn't just about inspiration, it is about translating trends into positioning, strategy or innovation to help further your business. We'd be happy to show you how."
Peter Heshof, founder of Bloom
Trends
Are you looking for future insights? Insights into the changing Zeitgeist and consumer trends? What they mean for your brand?
Brand
Do you want to keep your brand relevant in a changing Zeitgeist? Looking for a relevant and future proof BrandDNA?
Marketing Mix
Are you looking to translate trends into Renovation & Innovation and Activation & Communication?
Innovation
Looking for Trend-driven Innovation? Concepts based on consumer needs and trends?
Strategic advice
Do you need advice how to keep your brand or organization Future-Proof, in a fast changing world?
What do clients say about Bloom?
"Working with Peter has given me and the team a lot of inspiration going forward. I have seen a lot of trend presentations, but Peter's Zeitgeist view is not only inspirational, but also very concrete and offers guidance to improve ideas and plans." Sander van der Linden
"Peter gave an inspiring presentation to our team in which he explained his Zeitgeist vision. His story was received very positively and has contributed to looking at society and our customers differently. Highly recommended for teams who could use some additional inspiration for developing concept and products." Jeroen de Gier
"Peter has helped me with brand strategy and innovation for the Unox brand. Bloom's strength is its insightful Consumer Tour and the simplicity of the BrandDNA model. Especially his Zeitgeist trend vision is very valuable, with up to date inspiring examples." Debora van der Zee
How successful brands tap into the Zeitgeist?
Curious about our publications?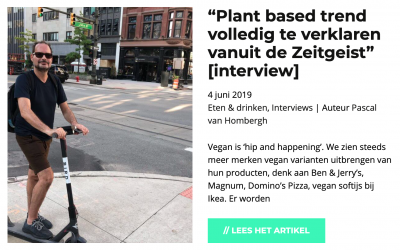 Vegan is 'hip and happening'. We zien steeds meer merken vegan varianten uitbrengen van hun producten, denk aan Ben & Jerry's, Magnum, Domino's Pizza, vegan softijs bij Ikea. Er worden vegan burgers gemaakt die nauwelijks van 'echt' te onderscheiden zijn, zoals de...
read more