This artcile was published in January 2022 on Nutrition Investor.
When buying food products, consumers are generally driven by 3 key consumer needs: taste, price and convenience. But entering a new zeitgeist period (a new dominant mentality in society), these three food drivers are no longer sufficient. 
From 3 Key Consumer Drivers
Food and beverage innovation has conventionally been centered around creating the best proposition based on taste, price and convenience. It was about following and applying the trends within these 3 food drivers.
For example, within taste we have seen taste-trends like authenticity, origin, naturalness and more recent taste-trends like sensorial pleasure, flavour excitement and indulging taste experience. Taste is the most important food driver for consumers, because if it does not taste great you will never have a repeat purchase.
Innovation has also been driven by price and convenience trends, like snackification (food anywhere and everywhere, casual eating, grab and go). And Online-First (with new propositions like black kitchens, black supermarkets and 10 minutes delivery). Online-first has turned the food business into a software business.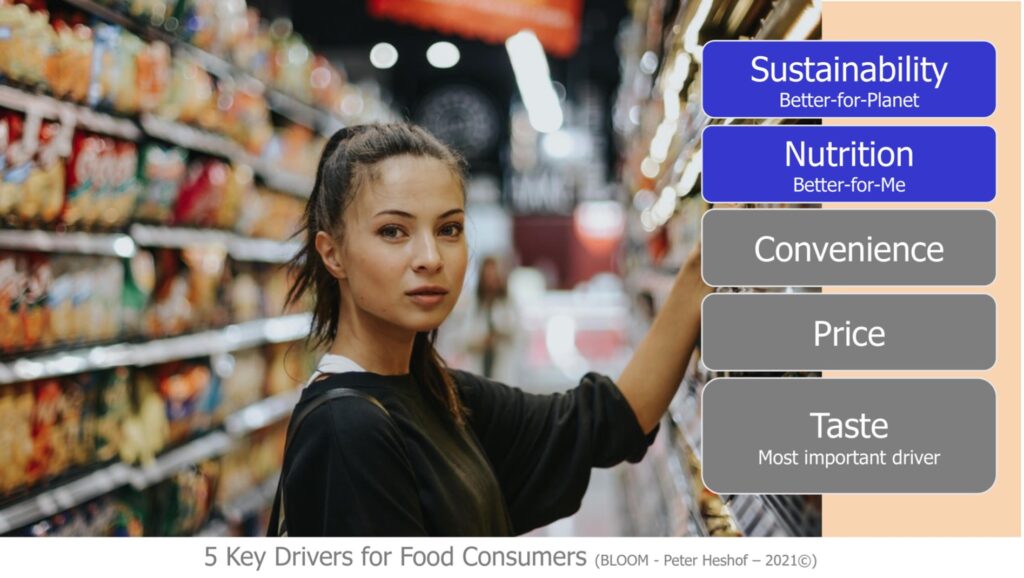 To 5 Key Consumer Drivers
Driven by concerns over health for people, animal and planet, well-being is on top of the menu. This new rising Zeitgeist period I call Smart-Wellbeing because food companies will be using science and technology in combination with nature to enhance people's and planet's health.
So, besides taste, price and convenience there are two new food drivers for consumers on their menu: nutrition and sustainability. Consumers want brands that deliver better-for-me (nutrition) and better-for-planet (sustainability) products.
As shown in the above model, it is first nutrition and then sustainability, because people first ask themselves: What is in it for me? and secondly What's in it for the others? The best concepts combine both drivers, like plant-based food and in the near future cultured food (lab milk, lab eggs, lab meat).
Nutrition: biggest food driver
Nutrition will be the biggest food driver for the coming years. Today, a lot of new concepts are around reducing the baddies like the Low and No trend (sugar, salt, gluten, calories, alcohol, caffeine). The coming years will be about increasing the goodies. What you eat, drink and snack should enhance your wellbeing. There are several innovation-opportunities.
First route is about promoting your nutritional goodness. Its starts with knowledge of the nutritional goodness of the products and then promoting the relevant ones to the consumer. Like Arla UK saying that milk contains calcium which is needed for the maintenance of normal teeth.
Second route is about increasing your nutritional goodness. How to increase the macro nutrition (protein, good fats and carbs) and micro nutrition (vitamins, minerals) of the products? A great example is the Dutch soup brand UNOX (Unilever) who has increased the content of veggies and fiber in their soups.
You also see the first examples in the market which are 100% nutritionally complete, like Future Noodles. They have worked with expert nutritionist to make sure Future Noodles has the right amount of essential nutrients like protein, fiber, carbohydrates, fats, vitamins and minerals for a healthy lifestyle.
The third innovation opportunity is functional nutrition accelerated by COVID-19, especially, around immunity. Besides immunity, consumers are also looking for at a functional benefit in the area of gut health, brain health, energy or good mood food. This is evidenced by PepsiCo introducing the functional water brand Soulboost, to support mental stamina and relaxation.

Personalized nutrition also represents an area of growth possibilities, where food intake is adjusted based on biomarkers such as DNA, the microbiome, blood, and lifestyle. Nearly two-thirds (64 percent) of global consumers in an Innova Consumer Survey note that they have found more ways to tailor their life and the products they buy to their individual style, beliefs and needs.

One such personalized nutrition company is InsideTracker, which analyzes consumers blood, DNA and lifestyle habits. It also gives action plans on lifestyle, fitness and nutrition, like food advice and meal recipes. Food companies can collaborate with personalized nutrition companies by linking the personal nutrition advices and recipes for consumers to their products.
Sustainability
Sustainability (better-for-planet) is not only a complex domain — from food waste to regenerative farming — but for most consumers it is also difficult to understand. Based on experience working with leading food companies in Europe, the following three strategies that can be used to make sustainability work better.

First, make it consumer relevant, by linking (explicit or implicit) it to one of the food drivers (taste, price, convenience or nutrition). Hellmann's free-cage eggs are in consumers perception linked to better taste and nutrition. The 100% bio-degradable coffee pods of Maxwell House are linked to convenience. Just put the pods in your pin or garden, instead of collecting and shipping it all back.

Second, make it simple by communicating one or two sustainable issues to the consumer, the rest of your better-for-planet activities can be placed on your website. Hellman's focus is on food waste with the Make Taste, Not Waste campaign and on promoting their 100% recycled plastic bottles.

Third, show the numbers. It is about proven impact instead of nice purpose-telling. And if you are not ultra-transparent others will be. After the Nutri-score, the Eco-score will give consumers transparency and shopping guidance. Or go bolder and work hard to become a B-Corp, being a certified force-for-good! Join the B-Corp family of Alpro, Ben & Jerry's, Clipper, Danone, Evian, Innocent, Olvarit, Pukka, Tony's Chocolonely, and Zonnatura.
So, for the coming years beside taste, price and convenience, watch for sustainability and especially nutrition as key drivers for food consumers.
Peter Heshof is a trend-watcher, speaker and consultant for consumer and future-proof food trends based in the Netherlands. He is the founder of trend and marketing agency Bloom.
For 20 years he helped to build future-proof brands based on his Zeitgeist trend model. He guides, inspires and consults leading food companies on brand positioning, innovation and strategy. His previous clients include Bonduelle, Compass Group, Dr. Oetker, Ebro Foods, Ecotone, Euroma, JDE Peet's, Goodmills, Maxxium, Suntory Schweppes, Unilever and Upfield.